Miguel Krzywdzinski
Founder/Manger of Groom Barbershop, 28 with 8+ years of experience. Loves people and the atmosphere of the barbershop. The idea that I can create something in such a little time and change the way the people look and feel is the reason why I love coming to work and building this empire so I can help give the best I can to everyone in the surrounding areas.
Barbers Choice - 18.21 Man made Clay/ Layrite Grooming Spray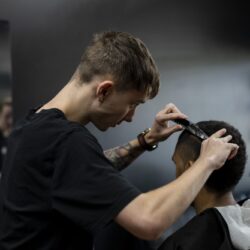 Jarryd Lebeter
Jarryd was the first person to go from a week of work experience to being a full time apprentice Barber. He Loves to test his skills on some awesome cuts and styles. When he's not cutting he's either training for his Karate or hitting the decks at the local club.
Barbers Choice - Slick Gorilla Styling Powder / Layrite Grooming Spray
Join the Gang
Interested in joining the team ? If you have a great attitude, common sense and love working in Aircon while talking to people with some music in the background. Click the link below and send us your resume with some details about yourself and we will get back to you as soon as we can !
Education
Interested in expanding your skills ? If your an old school Barber or Hairdresser or you just want to learn some new tricks or have some questions with business don't be afraid to send us an email and we will help you out as best as we can or point you in the right direction! We all have the same goal which is to love what we do and give people some great haircuts so lets team up !